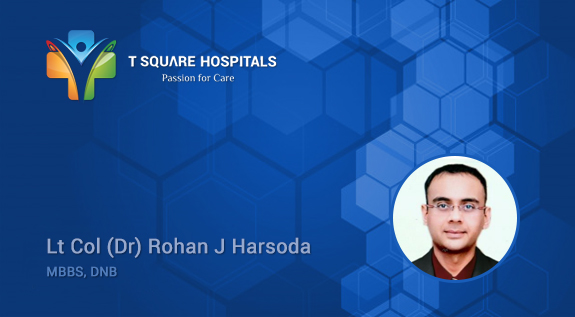 Designation: Serving in Indian Army as a Medical Officer followed by General, Trauma, GI & Laparoscopic Surgeon since 2008.
Profile details: Lt Col (Dr) Rohan Harsoda passed his 12th with top merit from RPTP Higher Secondary School, Anand followed by MBBS from prestigious B.J. Medical College, Ahmedabad, Gujarat and post graduation (DNB) in General Surgery from 7 Air Force Hospital, Kanpur(U.P.). After passing the PG exam he did fellowship in Minimal Ascess Surgery and bariatric surgery. He had also served and gain invaluable experiences in Trauma and critical Care as he was deployed in various forward surgical setup in Siachen, Western Desert sectors and J&K Sectors being in army.
He is a skillful general, trauma, GI and Laparoscopic surgeon performing wide range of surgical procedures while expertly overseeing an operating room staff. On the forefront of cutting edge surgical techniques, committed to exceptional patient care that includes careful monitoring during procedures and follow-up care for best outcome.
KEY COMPETENCIES AND SKILLS
Updated knowledge and experience in Trauma management.
Wide range of experience in skilled General, GI and Laparoscopic surgeries
Crisis and disaster management ability
Ability to response quickly in medical emergency management
Excellent fine motor skills
Effective communication skills
Affiliations:
Working as Lt Col in various field and Tertiary care surgical centers of Indian Armed Forces.
AFMC, PUNE, CHAF, Banglore,